Boxing Wrestling and MMA Streaming Apk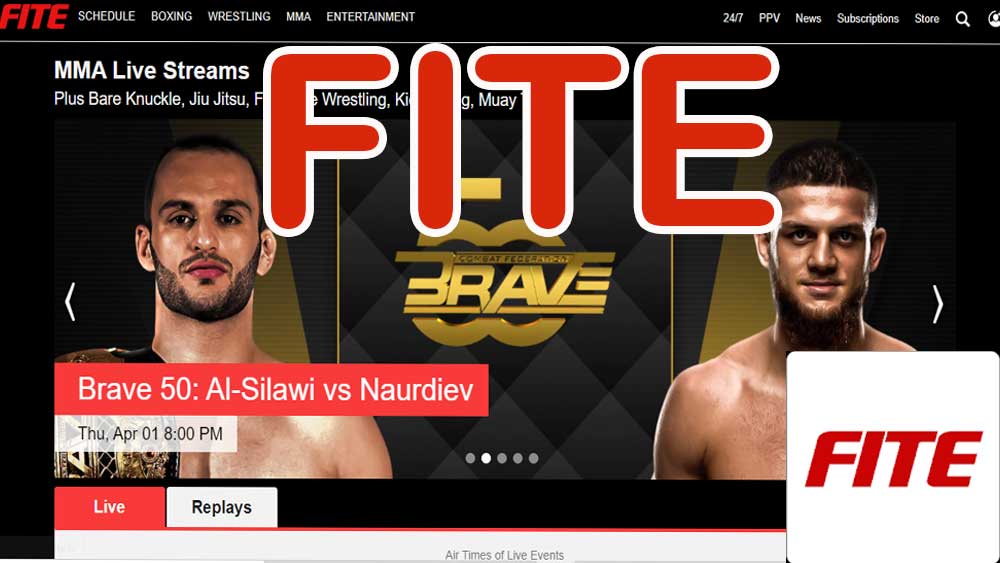 FITE is one of the most popular premier global streaming platforms for all kinds of sports and as well as entertainment. The application has been launched on the 20th of May 2012 and has been dedicated to sport related programs along with boxing, professional wrestling, and martial arts. This special application can be streamed over Wi-Fi with a single tap. FITE supports over 7000 TV models and can be said that it is the easiest way to stream on TV. FITE has been offered by Flipps Media Inc. and has over 1 million downloads up to now.
FITE is the only chance you got to watch premier sports live. You will be able to stream MMAs, Professional wrestling events, Boxing events, Bare knuckle fighting events, and as well as Martial Arts. Let's get to know what FITE streams live.
You can stream all those favorites using your Android TV box. Use play store application on your TV to install FITE application for free. If your device does not have play store you can use Filelinked or Aptoide TV application. Search YouTube and Filelinked forums and Facebook groups to get FITE Filelinked code.
There are many that FITE streams live
MMA Events – ONE Championship, M-1, Unified, Americas, Shamrock FC, Rizin, UAE Warriors, Combate Americas, KSW, UFC, Brave, Fury FC, RITC, AFL, Havoc, Cage wars, MGZ, UCMMA, and many more.
Professional Wrestling shows –All Elite Wrestling (AEW), New Japan Pro Wrestling (NJPW), Ring of Honor (ROH), NWA, MLW, IPW, Impact Wrestling, AAA Lucha Libre, GCW, Rise and etc.
Top Rank Boxing Matches – ESPN, PBC, Star Boxing, UKO, Jake Paul vs. AnEsonGib, DAZN, KSI vs. Logan Paul 2, Golden Boy Promotion, Match Room Boxing and etc.
Bare Knuckle Boxing events – BFCK, Valor Bare Knuckle BKB and etc.
The above mentioned events are just sports events that come under the four categories, which are MMA, Pro wrestling, Boxing matches, and bare knuckle boxing events. However, FITE also streams many other combat sports promoters.
Features of FITE
You will be able to watch any sporting event live thanks to the FITE live streaming service.
You can play FITE on your TV using this FITE mobile app. It automatically discovers and streams on smart TVs such as Philips, LG, Sony, Panasonic, Samsung and etc. FITE also supports Roku, Chromecast, and Fire TV. You can stream sports you want using these smart TVs too.
FITE streams more than 1000 live events and over 10,000 hours of on-demand programs per year.
FITE supports over 7000 TV Models, and this could be the best path to watch TV over Wi-Fi.
Even the application is in English; you will be given Spanish Audio Options whenever you need them.
All the entertaining events will be played in HD Quality on all devices. It doesn't matter whether you stream on your mobile or on a smart TV.
FITE also provides live chat options, Google Calendar reminders, Follow fighters in your favorite list, Voting, and many more.
FITE is a free app where you can download and sign up free of charge.
New features with the latest updates
FITE navigation bar has been redesigned.
The performances and improvements have been increased in order to run smoothly.
Overview
FITE is one of the best sports streaming apps in the app market. FITE supports many device platforms such as IOS, Android, Apple TV, Android TV, Roku, Fire TV, Vizio TV, and many more. So, why don't you install the app and watch live sports events for yourself? Just click the install button.
If streaming lags and stuck even after having good internet connection, it will be due to your device performance issue. You can boost device performance easily using applications like Clean Master, NOX Cleaner and etc. You can install any Performance booster application from play store, AppVN, Aptoide and AC Market.